---
Refugee.Info is here to serve every refugee making the journey across Europe. We provide critical, clear information about conditions in locations across Europe and the ever-changing legal options, around refugee's rights within the EU.
This information aims to allow refugees to make important decisions, with full-awareness of the options available to them.
Our website and app provide information to help you understand:
Asylum Services
Legal Procedures
Your rights
Your location and conditions there
Transportation
Maps
Education
Staying Safe
Medical Facilities
Emergency Contacts
Information on other countries and their borders
Important local developments and legal changes as they happen
This information is all in one place, in your language and adapted to your location.
10/2/17
THANK YOU ITZEHOE
The solidarity supporters of KIFA from Itzehoe Germany always support the patients of KIFA and raise awareness regarding the effects of the austerity measures imposed in Greece. Their group organizes various events and takes part in protest and collective activities in Germany. In early February 2017 they visited KIFA bringing medicines from Germany, as well as the medicines they bought in Greece. Their active support empowers us.
Nov. 17, 2016
Press Release
Since September 2015, the Athens Social Polyclinic and Pharmacy  (ASP&Ph) has been fully active in providing health care to the refugees in Attica-Athens. The doctors-volunteers of the ASP&PH are responsible for providing primary health care; however, the refugees/patients are channeled to the appropriate hospitals and clinics of the Greek National Health System if deemed necessary. Pharmaceutical care is offered free of charge. The volunteers of the ASP&Ph are also active at refugee camps and other open door locations, where there is an exceptional need for medical help. A noteworthy example is their participation during the Pan-Piraeus Initiative at the port of Piraeus.
Between October 2015 and September 2016, the ASP&Ph supplied the open refugee camps of Galatsi, Elaion, Hellinikon, Schistos, Skaramangas and Eleusis, and the camps for detainees at Petrou Ralli and Amygdaleza (Attica) with medicine, hygiene products, first aid items, baby milk, etc. Food was donated to the "Haven for Caring Children" and to the refugees settled at the March Park in downtown Athens in 2015. Solidarity groups from Germany, France, the UK, Belgium and Switzerland raised funds enabling the ASP&Ph to purchase and distribute food and necessary items. Furthermore, medicine was collected via volunteering associations in Athens, as well as from the staff, supporters and patients of the ASP&Ph.
The donations to the ASP&Ph, as well as the voluntary efforts of our staff, continue hand in hand, in order to support those in need. 
During the past twelve months, the ASP&Ph has purchased and transported to various posts more than 18,000 boxes of medicine, 21,000 hygiene products, 1,000 First-Aid-related items, 200 kgs of fruits, 2,800 cans of baby milk, 900 miscellaneous items for children, and 80 crates with hospital supplies for public health units in Attica.

During Platforms Project 20 meters of the fabric fence can be cut in exchange for a donation. 100% of the raised money is going to Athens Community Polyclinic and Pharmacy (ACP&P) (short: KIFA). It is a solitary association initiated by volunteering physicians, dentists, pharmacists and other who provide medical first-level treatment free of charge. One of the founders, Lena Kougea and Anina Jendreyko (founder of Volksbühne Basel and Solidarity for Greece in Switzerland), will be present during the opening of Art Athina on May 26, 2016 as well as a representative of Copa&Sordes (Basel, Switzerland).
Platforms Project@Art Athina 2016
http://dasesszimmer.com/de/?wysija-page=1&controller=email&action=view&email_id=107&wysijap=subscriptions&user_id=244
The volunteers of the Policlinic of Athens wish to thank you for your support, and a better year for all.
THE 2015 PRAGUE WRITER' S FESTIVAL ATTRIBUTES THE ANNUAL PRIZE TO OUR MEMBER KOSTAS KOKOSIS
The "Prague Writers' Festival" was established 25 years ago by the American born poet Michael March, whose collections translated by Katerina Angelaki-Rouk are published by "AGRA".
Many internationally renowned and laureate (even with Nobel Prize) writers and poets have participated to the Festival; due to March's the deep esteem for both the Greek letters and the country, the yearly offered "Prize for the Freedom of Expression" bears the name of Spyros Vergos who fought against the military rule of the colonels and lived as an exiled in the (then) Czechoslovakia where he met with March.
Many renowned Greek poets and writers have been invited and participated to the Festival.
Michael March having always his summer holidays in Greece, this last time took special note of the Greek approach vis a vis the foreigners, refugees and the migrating people, in spite of the extreme economico-social difficulties of the country. So, comparing the Greek position with the one in Central European countries, including the Czech Republic, he was impressed by the non-discriminatory reception, hosting and care of the foreigners in Greece as manifested by the solidarity organizations, including the teaching of the Greek and other languages by socially sensitized volunteers.
As a result, acting as the chairman of the Festival took the decision  that, due to the world circumstances, exceptionally this year, the "Spyros Vergos" Prize be attributed as a recognition of the above activism taking place in Greece, combining the social solidarity and the literary output, given that this year subject of the Festival was "Fear".
More information about the 2015 and previous Festivals, the participations etc can be found on the site: www.prf.cz
Austerity vs. The People's Health: How Greeks Built an Alternative Health System (Part I)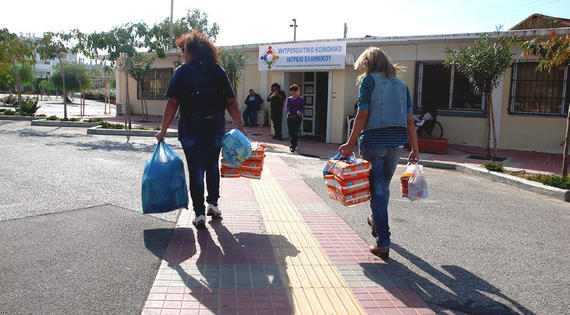 Photo: by the Metropolitan Community Clinic at Helliniko
«We don't earn anything, we only spend, but for each other,» said a tall, middle-aged man as he entered the little room full of medicine where I was sitting behind a small wooden table, interviewing a 15-year-old volunteer at a solidarity clinic in Pireus, Athens. As he raised his voice, he added: «Write that down, say that we are no NGO that pays people for doing something good. We all do this for free; we do it because we have to.» He closed the door and left.
Not only do the hundreds of volunteers involved in Greece's informal health structure consisting of circa 50 solidarity clinics & pharmacies earn nothing, they also do not get the praise they deserve. Like in May of this year when the Medical Association of Athens, instead of supporting the cause, decided to accuse solidarity health clinics of causing unfair competition due to the «unknown work relationship» between the clinics and their volunteer doctors. This was not only a slap in the face for those giving their time and effort to provide indispensable health services for free at these clinics, but also for at least 75,000 Greeks that relied on these services alone in Athens. As a response, the Social Solidarity Clinic & Pharmacy of Arta published a statement saying they pity those who think that solidarity clinics are illegal and that all it does «is have love and respect for the fellow man, nourishing hope for a better future, for a life with dignity.»
Over this summer I was lucky to visit dozens of examples of such healthcare-related solidarity. I learned that not only do they provide the sick with medicine and health services, they also help reverse the alienation suffered by many due to unemployment by strengthening social values and practicing open communication and selfless giving.
Greece has lately been seeing its own version of the «economía solidaria»; a term dating back to Latin America in the 80s when a big segment of the population started experiencing economic exclusion due to debt and unemployment and decided to counter it through a cooperative, autonomous and self-managed provision of various services by their members. The same thirst for justice and self-management could be witnessed in the past five years in Greece. Here, austerity has forced self-organization in areas such as housing, food and healthcare. It is especially the latter that has resulted in a remarkable network, quietly saving lives every day whilst listening to announcements of more and more public services being compromised.
'An alternative was needed'
Just two years ago, various authors and journalists referred to Greece's newly-sprung clinics as underground clinics; places people started going to as they increasingly could not afford or access treatment at a private or public hospital. Patients with severe physical and mental problems, many with cancer, diabetes or depression had to neglect their physical and mental problems for months as they were not able to pay the steep private hospital fees.
The public system became inaccessible because of inhumane waiting lists as a result of being greatly underfunded on every level due to austerity. Now in 2015, as Greece's socioeconomic crisis has long become a humanitarian crisis as expressed by Prime Minister Tsipras and other Syriza officials on multiple occasions, these underground clinics have long become known as «social» or «solidarity clinics» and their existence is not even closely as secret as the former term would suggest. Even though they are considered informal and exist without any legal status, solidarity clinics have become the alternative and frankly, quite innovative form of organizing healthcare for the citizens of Greece — by their own neighbors and friends.
Greater Athens alone accounts for approximately 20 of these clinics and pharmacies. Another 30 are spread all over Greece, including on its islands where public health cuts have resulted in particularly neglected patients. Clinics operate free, without the use of money at any point. The doctors, nurses and administrative assistants are volunteers, buildings are either donated by the local municipality or squatted, leftover medicine is mostly donated by locals and medical equipment tends to come from retired physicians.
What has started off as an emergency solution to the harmful effects of public health cuts has almost become a parallel health structure on which growing parts of the Greek population start to rely. It is a structure that places the idea of health being a human right at its very center. In times when healthcare has become more and more commodified, competitive and selfish, self-organized relationships of care and community demonstrate a way out. They prove that healthcare can work if it is organized and creatively crafted by those most affected.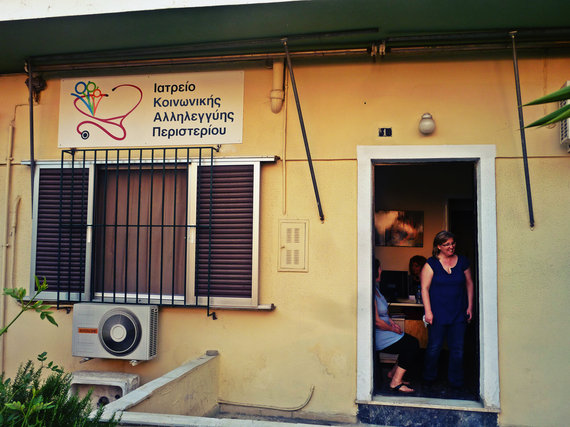 Photo: Solidarity Clinic of Peristeri, Athens

Health care from the bottom-up, in the middle of crisis-stricken Greece and born out of dire need: How did all of this happen and how did a people decide to take health into their own hands?
The first solidarity clinic -the Social Clinic of Rethymno– was to open on Crete, the idyllic island that is especially popular amongst European tourists. The clinic describes its purpose on its website as supporting people who do not have access to free health, medicines and vaccines as well as highlighting the problem that a big part of the population is being excluded from basic health services. Whereas the clinic was initially founded to serve the influx of immigrants and refugees, it soon started getting demand from native Greeks. Those who came were from diverse backgrounds; most just recently lost their health insurance as a result of unemployment. More than 300,000 people fell into this bracket in 2014, making the total share of uninsured Greeks stand at around 33.2% of the population (not even counting immigrants). Even people that are part of the social security register and formally employed have increasingly been making use of the solidarity structure; a decrease in public spending for medicines by more than half, from ca. five to only two Billion Euro means that many are unable to afford co-payments for drugs of sometimes up to 70%.
Whereas Greece has surely never been a pioneer in health matters – it has always been able to guarantee access to care to those that needed it. Its healthcare has been a mix of social health insurance and tax financed services via its own NHS run structure; comprised of a fragmented, corrupted but nevertheless accessible system. And although quality suffered in the last years, the biggest difference now is not that good-quality services are unavailable, but that people´s incomes are too low to pay for them any longer.
source: http://www.huffingtonpost.com/vijoleta-gordeljevic/how-greeks-built-their-own-health-system_b_8238210.html
Our Polyclinic in Fox News
Greece's solidarity movement: 'it's a whole new model – and it's working'
Citizen-run health clinics, food centres, kitchens and legal aid hubs have sprung up to fill the gaps left by austerity – and now look set to play a bigger role under a Syriza government
"A long time ago, when I was a student," said Olga Kesidou, sunk low in the single, somewhat clapped-out sofa of the waiting room at the Peristeri Solidarity Clinic, "I'd see myself volunteering. You know, in Africa somewhere, treating sick people in a poor developing country. I never once imagined I'd be doing it in a suburb of Athens."
Few in Greece, even five years ago, would have imagined their recession- and austerity-ravaged country as it is now: 1.3 million people – 26% of the workforce – without a job (and most of them without benefits); wages down by 38% on 2009, pensions by 45%, GDP by a quarter; 18% of the country's population unable to meet their food needs; 32% below the poverty line.
And just under 3.1 million people, 33% of the population, without national health insurance.
So, along with a dozen other medics including a GP, a brace of pharmacists, a paediatrician, a psychologist, an orthopaedic surgeon, a gynaecologist, a cardiologist and a dentist or two, Kesidou, an ear, nose and throat specialist, spends a day a week at this busy but cheerful clinic half an hour's drive from central Athens, treating patients who otherwise would not get to see a doctor. Others in the group accept uninsured patients in their private surgeries.
"We couldn't just stand by and watch so many people, whole families, being excluded from public healthcare," Kesidou said. "In Greece now, if you're out of work for a year you lose your social security. That's an awful lot of people without access to what should be a basic right. If we didn't react we couldn't look at ourselves in the mirror. It's solidarity."
The Peristeri health centre is one of 40 that have sprung up around Greece since the end of mass anti-austerity protests in 2011. Using donated drugs – state medicine reimbursements have been slashed by half, so even patients with insurance are now paying 70% more for their drugs – and medical equipment (Peristeri's ultrasound scanner came from a German aid group, its children's vaccines from France), the 16 clinics in the Greater Athens area alone treat more than 30,000 patients a month.
The clinics in turn are part of a far larger and avowedly political movement of well over 400 citizen-run groups – food solidarity centres, social kitchens, cooperatives, "without middlemen" distribution networks for fresh produce, legal aid hubs, education classes – that has emerged in response to the near-collapse of Greece's welfare state, and has more than doubled in size in the past three years.
"Because in the end, you know," said Christos Giovanopoulos in the scruffy, poster-strewn seventh-floor central Athens offices of Solidarity for All, which provides logistical and administrative support to the movement, "politics comes down to individual people's stories. Does this family have enough to eat? Has this child got the right book he needs for school? Are this couple about to be evicted?"
As well as helping people in difficulty, Giovanopoulos said, Greece's solidarity movement was fostering "almost a different sense of what politics should be – a politics from the bottom up, that starts with real people's needs. It's a practical critique of the empty, top-down, representational politics our traditional parties practise. It's kind of a whole new model, actually. And it's working."
It also looks set to play a more formalised role in Greece's future under what polls predict will be a Syriza-led government from next week. When they were first elected in 2012 the radical left party's 72 MPs voted to give 20% of their monthly salary to a solidarity fund that would help finance Solidarity for All. (Many help further; several have transferred their entitlement to FREE
telephone calls to a local project.) The party says the movement can serve as an example and a platform for the social change it wants to bring about.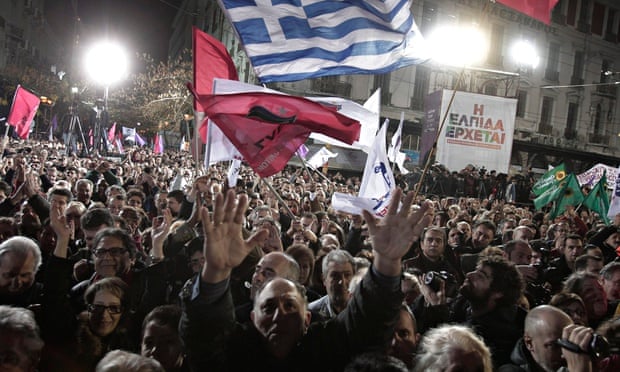 Syriza supporters at a pre-election rally in central Athens. Photograph: Yannis Kolesidis/EPA
In the sleek open plan, blonde-wood office she used when she was a successful architect, Theano Fotiou, a member of Syriza's central committee, was packing leaflets for the last day of campaigning, with the help of a dozen or so exceedingly enthusiastic young volunteers. She is seeking re-election in the capital's second electoral district. "The only real way out of this crisis is people doing it for themselves," she said. "If people don't participate, we will be lost as a country. This is practice, not theory, a new social ideology, a new paradigm – the opposite of the old passive, dependent, consumerist, individualist model. And the solidarity projects we have now are its incubators."
Fotiou said a large part of the first stage of a Syriza's government's programme – ensuring no family is without water or electricity (in nine months of 2013, 240,000 households had their power cut because of unpaid bills); that no one can be made homeless; that the very lowest pensions are raised and that urgent steps are taken to relieve child poverty, now standing at 40% in Greece – was largely inspired by what the party had learned from its involvement in the solidarity movement.
"We've gained so much from people's innovation," she said. "We've acquired a knowhow of poverty, actually. We know more about people's real needs, about the distribution of affordable food, about how not to waste things like medicines. We've gained a huge amount of information about how to work in a country in a state of humanitarian crisis and economic collapse. Greece is poor; this is vital knowhow."
If the first instinct of many involved in the movement was simply to help, most also believe it has done much to politicise Greece's crisis. In Egalio, west of Athens, Flora Toutountzi, a housekeeper, Antonis Mavronikolas, a packager, and Theofilos Moustakas, a primary school teacher, are part of a group that collects food donations from shoppers outside supermarkets and delivers basic survival packages – rice, sugar, long-life milk, dried beans – to 50 local families twice a month.
"One family, there are six people surviving on the grandmother's pension of €400 a month," said Mavronikolas. "Another, they've lived without running water for two months. We help them, yes, but now they are also involved in our campaign, helping others. People have become activated in this crisis. They are less isolated."
In the central Athens district of Exarchia, Tonia Katerini, another now largely unemployed architect ("There's not a lot of work for architects right now," she said), is one of 15 people running a cooperative social grocery that opened a year ago and now sells 300 products, from flour to oranges, olive oil to bread, pasta to dried herbs. The business has grown rapidly and the collective's members can now pay themselves an hourly wage of €3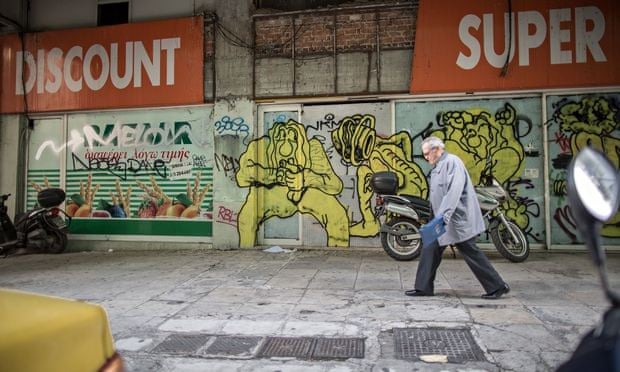 A man walks past a closed supermarket in Athens. Photograph: Michael Kappeler/dpa/Corbis
The local "without middlemen" market, one of 30-odd to have sprouted in Athens and several hundred around Greece, where farmers sell their produce for 25% more than they would get from the supermarkets and consumers pay 25% less, takes place only once a month, and the group wanted to set up a small neighbourhood grocery offering similarly good value, high quality foodstuffs directly from small producers.
Ninety per cent of the products the store sold were "without middlemen", Katerini said, and about 60% were significantly cheaper than in the supermarket. Several come from other solidarity projects – the store's soap, for example, is made by a collective of 10 unemployed people in Galatsi.
"All these projects, it's very important to me, are not just helping people who need it, but they represent almost the start of a new kind of society," Katerini said. "They are run as direct democracies, with no hierarchy. They are about people taking responsibility for their lives, putting their skills to use, becoming productive again."
Katerina Knitou has devoted the past few years to preventing people from losing their homes. Part of a group of lawyers formed to fight a much hated "emergency house tax", her focus has switched to the one in three Greek households fearing repossession or eviction – either because they are among the 320,000 families behind on mortgage or other debt repayments to their bank, or one of the 2.45 million Greeks who have been unable to pay a recent tax bill.
Knitou, a Syriza member like almost all those involved in the movement, gives FREE
legal advice on how to avoid foreclosure and eviction. In the first half of last year 700 homes were either repossessed by the banks or foreclosed on by the Greek state over unpaid tax or social security bills. (With colleagues, Knitou also occasionally takes more direct action, disrupting – and preventing – planned auctions of repossessed and foreclosed homes.)
"This whole thing," she said, "has made a lot of people very aware, not just of what they face, but also of what they can – and must – do. Expectations are going to be high after Sunday, but there are of course limits to what even a Syriza government will be able to do. It's up to us, all of us, to change things. And honestly? This feels like a good start."
The Guardian 
http://www.theguardian.com/world/2015/jan/23/greece-solidarity-movement-cooperatives-syriza
C. KOKOSSIS & L. KOUGEA: THE ATHENS COMMUNITY POLYCLINIC AND PHARMACY (ACP&P)
The Athens Community Polyclinic and Pharmacy (ACP&P) has been in full operation since January 2013 providing free of charge medical assistance and health care to Greek citizens and immigrants lacking health insurance.
The ACP&P was founded as a response to the continuous disintegration of the Greek National Health System following the implementation of the directives introduced by the Troika (European Commission – European Central Bank – IMF). The collapse of social and health services gave rise to this urgent response by Greek volunteers; mostly those affiliated with the left party SYRIZA and the left municipal election initiative in Athens, called "Open City".
The medical treatment offered by ACP&P is of a wide variety, including minor surgical procedures and dental care, and is provided by volunteers with diverse medical expertise. A Pharmacy Unit is also included.
The ACP&P provides health care to all those unable to afford medical insurance and thus excluded from the National Health System (NHS). It cooperates with a number of volunteers, either freelance medics or NHS workers, in order to fulfil the necessary diagnostic and therapeutic procedures required by its patients. Specialties of these volunteers include pathology, neurology, psychiatry, paediatrics, orthopaedics, etc. The assistance of psychologists and social workers is also available. In total, since its establishment it has received and cared for more than 7.000 cases, serving almost 80 patients per day. Out of these, 3.000 were treated by the Dentist Department, 21 underwent minor surgical procedures, and 454 patients were treated by doctors helping the ACP&P at their private clinics. The number of persons who received medication has reached over 2.000.
The Athens Community Polyclinic and Pharmacy is a non-profit organisation. Its operation is based solely on charitable procedures and the work of volunteers, while a major part of its work is sustained by the economic and other support provided by "Solidarity for All" (a SYRIZA division). Therefore, it depends greatly on donations made by the public, in order to acquire the necessary equipment and daily supplies for the maintenance of its departments. The free of charge provision of medication remains, in particular, a major challenge.
What truly motivates the volunteers of the ACP&P to maximize their efforts is the sense of solidarity felt amongst citizens supporting this cause; each donation justifies and strengthens these efforts. Furthermore, the great number of patients, daily, in desperate need of medicine and health support, serves as a constant reminder that the work of the ACP&P is a necessity for the community. Severe cases (cancer patients for instance) have been tested and referred to public hospitals, only to be rejected by the NHS and subsequently cared for thanks to ACP&P. In addition, the care of substance abusers in recovery has been another very important area of intervention.
However, it is increasingly of great concern to all of us at ACP&P, that a growing number of challenging cases is reaching the point of no return. So far, these critical patients have been deprived of necessary medical services and procedures, such as surgical operations, provided only by the NHS. In spite of our protests to the Press and to Parliament against turning down patients in need, so far authorities have turned a deaf ear. In spite of this, we believe the availability of human resources can assuage some of the effects of political and social cruelty and we are dedicated to this mission.
source: http://analyzegreece.gr/solidarity/item/66-c-kokossis-l-kougea-the-athens-community-polyclinic-and-pharmacy-acp-p